This WordPress tutorial is how to install plugins, safely.
If you want to extend the capabilities of your site, WordPress is great, that you can add plugins. There is thousands to chose from, but be careful and look at these pointers before you install. Plugins can crash your site, slow it down and some may even have malware installed in the code.
On every plugin page, you will see information on the right hand side, read these carefully.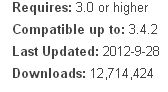 Requires: 3.0 or higher If your script you have hosting is a lower version of this number, do not install it.
Compatible up to: 3.4.2 This tells you, up to what version the plugin can be used safely up to. This does not necessarily mean it can not work on a higher version, especially if its close in version number, but be careful.
Last Updated: 2012-9-28 If the plugin has not being updated for a long time, I would not install it.
Downloads: 12,714,424 This tells you how many downloads and hence how popular the plugin is.
Next box is Ratings The more 5/4 stars the better.
Next down is the Author There is now a link on their name which brings you to the plugin authors, profile page. You can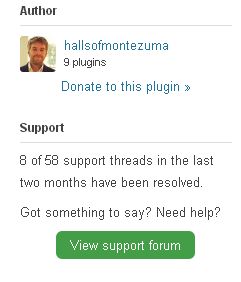 see what other plugins they have made and postings on the WordPress Forum.
Next section, Support, Is very important, especially if you may need help, if you run into problems with the plugin. See how many support threads in the last two months have been resolved. The lower the percentage the worst it is. You need a plugin that has support. Also have a look at the plugin support forum, the green button, and see the general questions people are asking. If a lot of people have the same type of problems, which are not being resolved, maybe walk away.
I have taking the snapshots and some statistics for this article from the All in One SEO plugin. Page here.