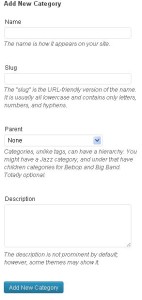 To add a category to your site, just go to Posts in your dashboard sidebar, then Category tab. You will come onto a page the same as the photo here, which on the right of that page, has the list of your categories you have all ready made.If you have not made any yet, you will see the uncategorised category, which is the default category when your WordPress is installed. Keep this category, it is useful if you forget the asign a post to a category, it will automatically be posted to the uncategorised category. You do not have to show it on your menu bar.
On the top line, titled name, write the title of your category.
The slug is used in the url. For example say the category is cars, the slug would be "yoursite.com/cars/
Category Parent, will be a drop down of your categories and if you wish your new category to be a sub category, you pick the category here that you wish to be the main category. If you want the new category to be a main category, you leave this alone.
Description. You can write a couple of words about your new category. I do not as my themes do not show a category description. So I leave this alone.
Click on Add new category and its done.
If you have wrote a new post, but have not made a category for it, in the category page, WordPress makes it that you do not even have to leave the page where you have written the post.
On the category block, where you click what category you wish your post to be posted under, you will see there is a link just under the category box, titled "Add new Category" if you click on that you can add a new category and again pick a parent category if you wish.