Please note for this WordPress lesson we are using the latest script, 3.4.2
Ok, so you have installed WordPress on your hosting. Everything looks fine so you go to login with the username and password you set.   The first thing that greets you when you login, is the Welcome message.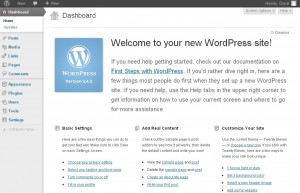 This is a message from WordPress that has links to useful articles about WordPress. For this WordPress tutorial I am going to ignore this message, as I wish to get my readers up and running with their site  as soon as possible and without confusing them with to much information.
I would suggest you ignore this message, but do not hit the dismiss button as you can go back later and look through the links.
Under neat the message you will see some information about your install and again some links.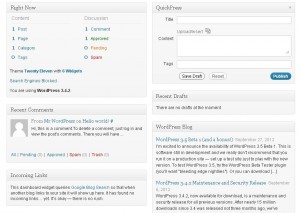 It will tell you, there is one post and one page. This is the sample post and page that is on your install. This is handy as you can experiment and learn with these.
It will tell you the default theme. It will also say that search engines are blocked. This is important as you do not want search engines picking up everything you try out on your page and posts, until you are ready to go live.
You can basically ignore everything else here, for the time being.
On the left bar, under the home tab, there is a link for updates. Click on this and see if there is any updates needed. There could be with your script, if you installed an older version also the theme might need to be updated. You update everything now. Just follow the links.
Now we need to install plugins for your site. There is over 20,000 WordPress plugins to make your site better. Word of warning thought, the more plugins you use, the slower your site will be. Not all plugins are up to date, and in theory could crash your site. I will go into more details on plugins later, but for this WordPress lesson I am going to install only what I consider the important plugins. These are
All in One SEO Pack, Google XML Sitemaps, Fast Secure Contact Form, Google Site Verification Plugin, Send From, SI CAPTCHA Anti-Spam.
Extra WordPress plugins you may want.
If you use social networks, for example facebook, these two plugins are good.
Share Buttons by Lockerz / AddToAny
Facebook Like Box
To show your location: MapPress Easy Google Maps
For newsletters, Newsletter Sign-Up
To install these plugins, go to the plugin bar, on the left hand side, click on it and on the drop down, click on add new.
This brings you to this page,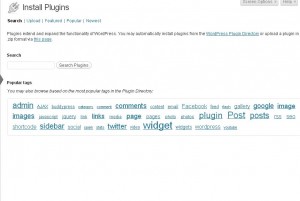 In the search box, type in or copy and paste the name of the plugin you wish to install. Hit the search button and you will arrive at a page that should list the plugin but also other plugins that are close in name or function.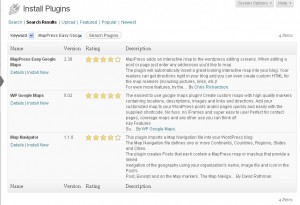 Click on the install now button, and click yes on the pop up box. Then click on the return to plugin installer, as we have a few plugins to upload so we may as well install all the plugins then activate and set them one by one.
Now we go to theme. The twelve eleven theme that is the default theme, is excellent, but I love a theme called Suffusion. You can do so much with it, so again I suggest installing Suffusion theme, as I will be doing lessons with Suffusion. You need to go to the appearance bar, Click on themes, then click on install theme, write in the name Suffusion and install.