This quick tip in your WordPress Tutorial is do not copy and paste directly onto the post box when you are adding a new post or page. It can cause major trouble in your WordPress script. The problem is, it might not cause any trouble the first or even tenth time you do it, but it will. If you want to copy and paste from word just hit the letter W on your dashboard

A pop up box appears, just copy and paste into that and hit insert. Problem solved.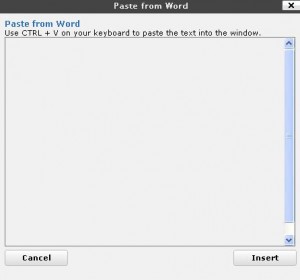 If you want to copy and paste from another site or non text source, use the letter T instead of the w
If your copy and paste does not look right you can use this button.

This should be able to correct what ever is wrong, but still leaving the important codes.